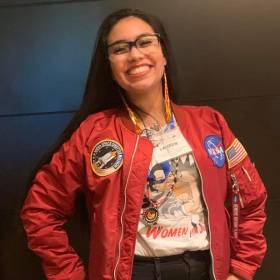 Lauren Denson
Guest Speaker
Lauren Denson is a Chiricahua Apache of the Chihene Nde Nation of New Mexico and Latina. She works for NASA's Jet Propulsion Laboratory in Quality where she is the acting supervisor for a diverse team that manages training, tools, technology, and tracking for the Office of Safety and Mission Success to support all flight projects like Mars Perseverance aka Mars 2020. She manages software systems, develops new applications specializing in project management, programming in front and back end languages, corporate knowledge, and innovating via strategic planning with her team. In her spare time, Lauren volunteers as a teacher's assistant and leads projects for bilingual education with kindergartners. She's passionate about Diversity, Equity, and Inclusion and working on various projects to improve JPL in these efforts. She loves technology, comics, horror films, SFX makeup, and filming projects.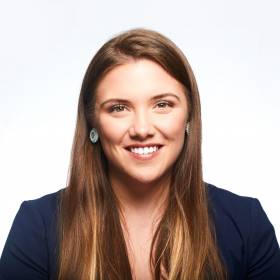 Brielle Thorsen
Guest Speaker
Brielle is Cree from Goodfish Lake and is a registered member of Saddle Lake Cree Nation. Brielle is a Master of Applied Science candidate in Mechanical Engineering at Queen's University. Her research is focused on sustainable energy systems for remote Northern Indigenous communities. She recently graduated from Queen's University with a Bachelor of Applied Science in Applied Mathematics and Mechanical Engineering. Social and environmental wellbeing and advocacy are her main passions. During her undergraduate studies, Brielle held numerous roles, including serving as the first-ever Canadian National student representative for the American Indian Science and Engineering Society. Brielle received Queen's University's 2020 Peer Leadership award for her contributions.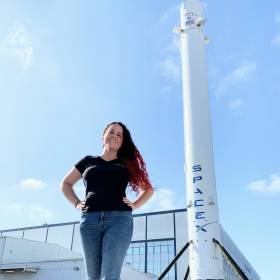 Erin Ishimoticha
Guest Speaker
Erin is a Software Engineer in Flight Software at SpaceX from the Choctaw Nation of Oklahoma using Python to test rockets and satellites. She lives in Los Angeles.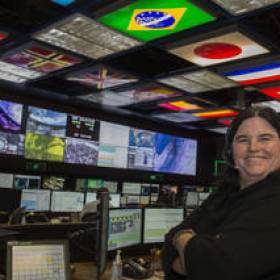 Penny Pettigrew
Guest Speaker
Penny Pettigrew is Choctaw and doesn't let her Native American heritage hold her back from being a successful woman in STEM. She is a NASA payload communications manager. She has always had a passion for and been inspired by space. She is so happy to share her journey as a Native American woman in STEM to inspire young girls and show them that with determination and hard work, any dream can become a reality.
Dr. Mae Hey
Guest Speaker
"Hey completed a two-year InclusiveVT postdoctoral fellowship under the Office of Inclusion and Diversity with the American Indian and Indigenous Alliance. In that position, she nurtured relationships with tribal communities in Virginia to aid in experiential learning and applied research programs at Virginia Tech. She also created bonds with the Pamunkey Tribe, and she works on a number of grants for major community viability projects with the Pamunkey's extension educator. Hey's dissertation, "Situating Indigenous Worldview within Western Academic Traditions," details her experience as an Indigenous woman in the STEM educational system." Source: https://liberalarts.vt.edu/departments-and-schools/department-of-sociology/faculty/MaeHey.html