Frequently Asked Questions
Is everything conducted online? (Was this even the case prior to COVID?)
We were originally planning to have the program in person but pivoted to online as the pandemic evolved. This allowed for our reach to include 89 tribes, totaling over 140 girls! Because of the reach and increased impact we can make online, we continued to be completely online for our next sessions regardless of the COVID situation. We have focused our strategy for the future to reach and connect girls from around the country (currently we have representation from 26 different states!). The community also serves to connect the girls and contribute to their social wellness through our regular meetings and online community through a platform similar to discord.
What are the technical requirements for the students who would want to participate? Do they need access to a computer and reliable internet or anything else?
We want to make this program accessible to as many girls as possible, so the girls do not need to have any experience in STEM or coding beforehand, just curiosity, creativity, and willingness to learn! Regarding technical requirements, they do need access to a device (computer ideally, but a smartphone or tablet can work) and the internet, as the entirety of our program is online.
How often do the kids meet? Who are they meeting with? Is there a sample curriculum of what is covered?
The SONAC participants meet 3 times a week during the 12-week session. The SONAC program is split into 3 modules: Learning Hour, HOP (Hands-On Practice), and Mentoring/Guest speakers (details below). Regarding the curriculum, yes, we have a specific curriculum based on 10 units to ensure the girls are proficient in coding in the Python programming language and prepared for our culminating event, which, for the Summer 2020 session, was "Kids Hack the Crisis" with the Swedish Institute ("The Swedish Institute and UNICEF Sweden present Kids Hack the Crisis, where children all over the world can join in creating the sustainable solutions we need.").
Learning Hour is where the girls learn how to code in the Python coding language using fun examples and engaging content. The curriculum is an asset of SONAC, so we, unfortunately, cannot provide it to anyone, but we will be approaching and mastering concepts such as variables, conditionals, for loops, and many other exciting topics. These are the basic tools each coder has in their toolbelt by the end of the program, but a great coder is one who can use their creativity and imagination along with these concepts to make their visions become a reality.
HOP is when the girls, in small groups, work on their coding skills with interactive exercises and projects that correlate to that week's Learning Hour material. They can also ask questions about the Learning Hour material and receive help on the fun projects they are working on. 
During mentoring, we alternate each week between discussion and guest speakers. During discussion, our mentors lead discussions with the girls in medium-sized groups about pre-defined topics based on a study on mentoring girls in STEM…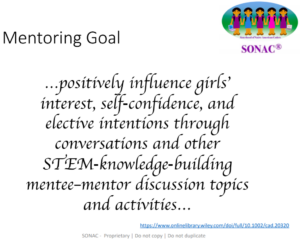 …and skills they can use for their future in STEM. We also host 5 exciting guest speakers (successful indigenous women in STEM from NASA, SpaceX, and more! Check out our speaker series page if you would like to see the lineup for the Spring 2021 session).
Is there homework and other activities outside of scheduled meetings?
There are optional fun project options for each week, but we highly encourage each girl to complete one of the project options each week before the next Learning Hour (giving them a full week to work on it). Making their own program allows them to practice their coding skills and work with the concepts they learn about, while also giving them the chance to see the creative and fun elements of coding. One example project is the Random Compliment Generator, which gives the human a randomly generated compliment using code.
In the flyer, it appears the program is targeted for Native American girls 9-12 years old. Is that the full range of students that SONAC works with?
Yes, currently we are focusing on 9-12 year old Native American girls as this is the age where interest typically falters in STEM. If you know of any women with indigenous ancestry and coding/STEM experience that would like to volunteer as a staff member (we have many different roles, so it is up to them how they think they could best contribute), please have them contact SONAC directly through the Contact Us form at the bottom of the home page.
Is there any way for people to host a local chapter of SONAC like a club?
Currently, we are not "franchising" the SONAC program, as we want to preserve the rigor of the 3-part program as mentioned above. Depending on your timing, we can discuss involving your students in our next session. Additionally, we can discuss with the Board potential ways that we might repurpose lecture and guest speaker recordings, however, this would not allow for interactive learning and community development, which is critical to a successful program. The projects are also tightly targeted towards girls 9-12.